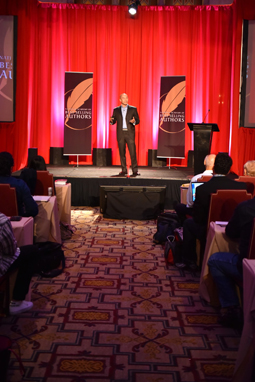 Online Marketing Influencer Tom Shieh recently received the 'Thought Leader of the Year Award which is bestowed by the National Academy of Best-Selling Authors. Shieh received the Quilly during the 6th Annual Best-Sellers' Summit & Golden Gala Awards celebrated this past September 2015 in Hollywood, California. This award is certainly the most sought after award by authors everywhere and is considered as an authors' crowning glory. The event itself is celebrated and organized similar to Hollywood events like the Oscars and the Emmy's. The ceremony gives all the best-selling authors the red-carpet treatment they deserve for all of their contributions. The trophy, called the Quilly, is handcrafted by the same company that makes the Oscar and Emmy trophies which adds luster to the event. The selection process that the nominees have to go through is one of the strictest. During the third day of the event, all of the Thought Leaders nominees are given 15 minutes of "power talk" time where the authors are allowed to speak about their new ideas and plans that one can implement in their professional lives. These 15 minutes should inspire listeners and make them learn from them. Although they are only given a limited amount of time, the authors are challenged to express themselves fully as they are set to compete against one another. Only three out of more than fifteen Thought Leaders are given the award. Tom Shieh is one of them. 
The services offered are: Consulting and Speaking
Consulting services include: Information systems planning, analysis and design; operations process and workflow analysis; performance improvement, business automation planning; computer hardware and software evaluation, selection and implementation; project management and facilitation; internet and web site strategy; web design; network planning; financial and manufacturing systems; feasibility studies; cost containment; contingency planning. Speaking Services include: Keynote and conference speeches which are dynamic and entertaining. The content includes amusing and fascinating anecdotes to illustrate uplifting messages.